Say Yes to Sun Protection
April is here and we couldn't be more excited to soak up the rays! As we know, with the sunshine, comes an extra need for sun protection. That's why we're here to share with you some helpful information from the American Academy of Dermatology Association.
Did You Know?
Skin cancer is the most common cancer in the U.S., but it is also one of the most preventable cancers.

One in five Americans will develop skin cancer in their lifetime.
Nearly 20 Americans die from melanoma, the deadliest form of skin cancer, every day.
Reduce your risk of skin cancer by protecting your skin from the sun's harmful UV rays. Follow the tips in the infographic below and #PracticeSafeSun every time you are outdoors. Check out the American Academy of Dermatology Association for more information at https://www.aad.org/public/diseases/skin-cancer/prevent/sun-protection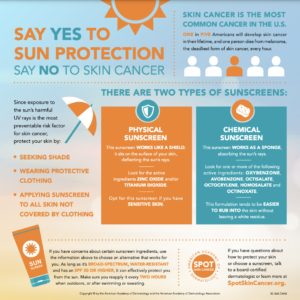 To learn more about how Skin Care Doctors can help you, visit our website at https://www.skincaredrs.com/contact/ and contact us today.